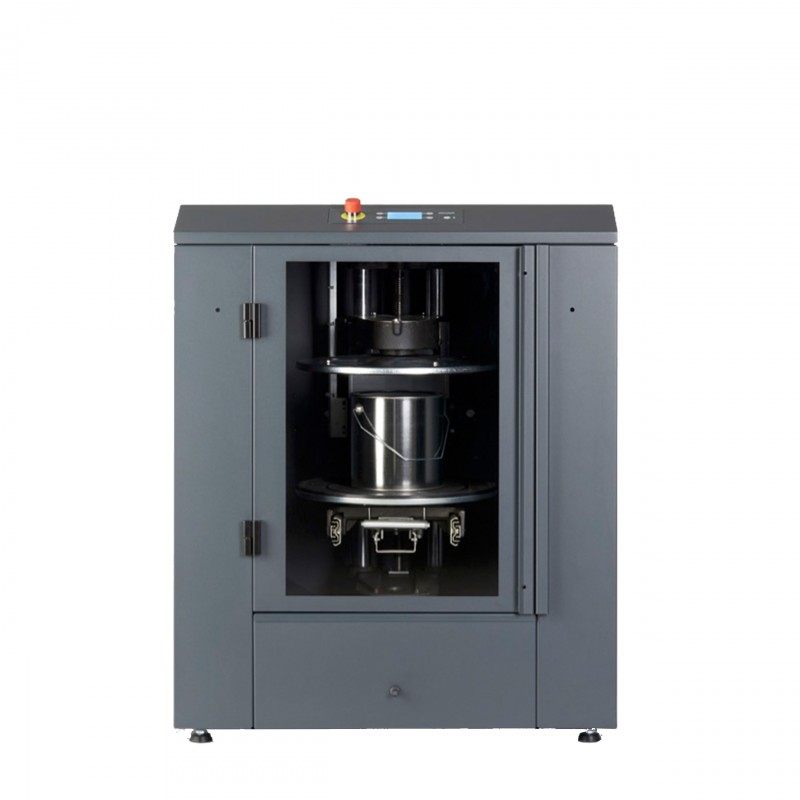  
GX300 Fully Automatic Mixer
The GX3O0 is the revolutionary intelligent & fast mixer that iss developed by keeping our customer's needs in mind. With a simple user interface, it provides ease of operations and reliability.
The GX300 is a very fast, high performance and intelligent automatic mixer. Its preset buttons, simple display, and user interface provide ease of operations that makes the life of the user easy. Its intelligent feature automatically secures maximum speed with pre-set mixing-time. The variable speed with the improved clamping speed and the dynamic balance offers a very reliable mixer. The GX300 is future-ready and can be connected to the PC of a paint dispenser enabling you to easily obtain a clear overview of machine status and usage.
The GX300 has a simple 7-segment LED display that provides machine status to the user and also the error messages for quick diagnosis.
The fastest & smartest mixer in the market which reduces the total mixing time by 50%"
Specifications & Technical Data
General
Medium and high volume paint turnover
Can specs
Max. product weight: 40 kg

Min. height: 80 mm

Max. height: 400 mm

Plate diameter: 380 mm

Suitable for oval cans

Mixing of multiple cans possible
Footprint & weight
HWD: 101 x 82 x 87 (84) cm
Weight: 235 kg
Clamping
Automatic, dedicated control
Usage
Rotating swing door (to be mounted left or right)

Sliding door optional

Loading plate fully extractable

Cradle stops automatically at unloading position

Display user interface: 7-segment LED with programmable pre-set buttons

Variable speed (slow start), between 230 and 100 rpm, dynamic balance
Service
Removable top cover and back panel
Splash guard to protect from paint spillage, replaceable rubber on bottom clamp plate, possible service control via FFM Maintenance and/or display, USB port on PCB
750 Watt AC motor
Installation
Wheels and feet at bottom
Power supply: 230V-50 / 60Hz or 115V / 60Hz Voltage adjustment at order
Footprint & weight
HWD: 84) cm
Weight: 235 kg