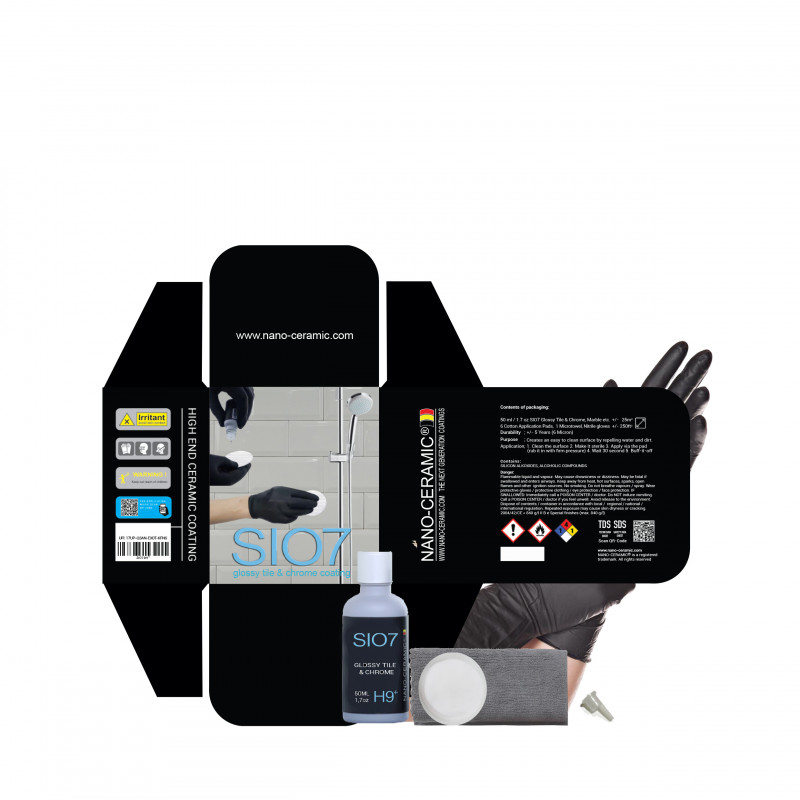  
H9 SIO7 Glossy Tile & Chrome 50ml/1.7oz
SIO7 H9 coating is a thick and hard hydrophobic layer it creates by applying one single layer a superb protection on all kind of material surfaces.
Reachable area: ( 50ml/1.7oz = 25m2)

Thickness: 6 micron 

Hydrophobic

Hardness H9

Durability : Near Permanent

Temperature resistance: 850C
Advantages
Increased surface hardness

Makes the surface hard and smooth, permanently protected

Creates an easy-to-clean surface

Repels water and dirt.

Scratch resistant, optimal protection from the clear layer underneath

UV Protection 

Cost reduction, cleaning intervals will be extended
Recommendations
A fully cured SIO7 layer can only be removed by machine polishing from the surface, using wool pad and heavy compound.

Prior to the application of a SIO7 Ceramic layer it is crucial that the surface is in a new or like-new condition.

We recommend to clean the surface prior to the application with our sterile cleaner
Easy to Apply
Application; 1. Clean the surface 2. Make it sterile 3. Apply via the pad  4. Wait 30-60 second till it flash. 5. Buff-it-off (remove the residue very gentle) 
Storage and handling
Store in dark and dry conditions at room temperature.
Use gloves and mask.
Ask for our MSDS via 24h - Emergency Phone: +62 811 640 5000 (advisory service in German, English, or Bahasa language)
Content of packaging
1 Pcs 50ml-1.7oz SIO7 Coating (Suitable for matte stone and tile)

1 Micro towel 40x40cm 15"x15"

6 Cotton pad

1 Dripper plug

1 Pair Nitrile Gloves
Packaging Information
Includes plastic sealed wrap
1 pcs Weight 180 gram/ 0.4 lbs single carton size L9.5cm x W6cm x H11cm / L3.7inch x W2.4inch x H4.3inch
82 pcs in carton W52cm x H25cm x D44cm / W22inch x H15inch x D18inch Weight 14,8 kg 32,6 lbs