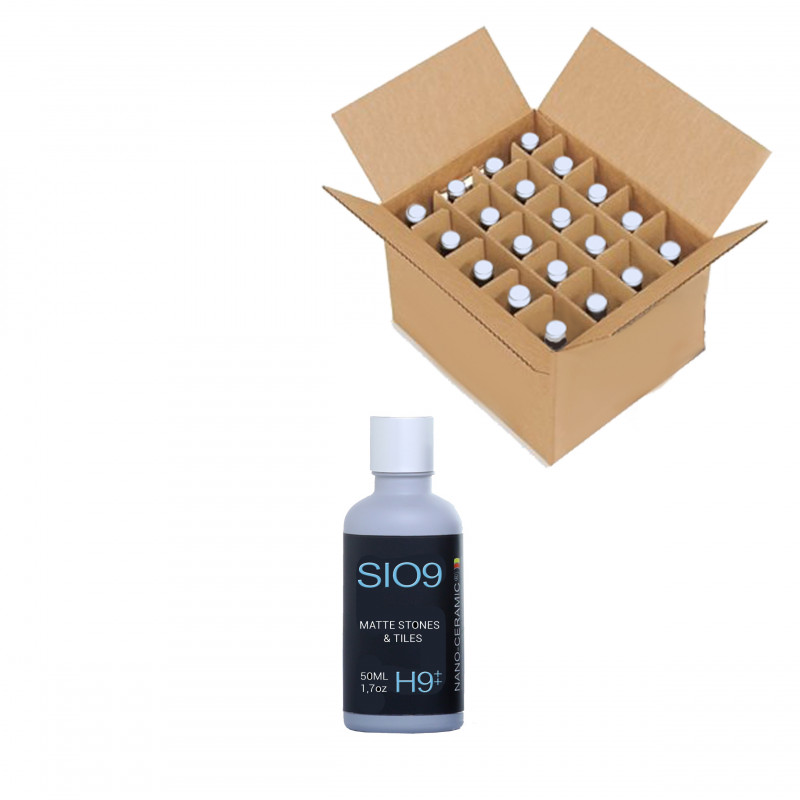  
20 pcs H9+++ 50ml/1.7oz Matte Stone & Tile
SIO9 is a near-permanent non-hydrophobic ceramic coating designed on the edge from hardness and durability especially for matte stone and tile. It's purpose is to make the hard and smooth so that water and dirt can not penetrate.
• Reachable area: ( 50ml/1.7oz = 25m2)
• Thickness: 2 micron
• Non Hydrophobic
• Hardness H9++
• Durability : Near Permanent
• Temperature resistance: 850C
Advantages
• Makes the stone or tile surface super hard and smooth.
• Enhanced hardness of the surface
• A smoother overall end-result, permanent protected
• This SIO9 coating is also suitable as base coat for hydrophobic topcoats.
Recommendations
• A fully cured SIO9 layer can only be removed by machine polishing from the surface, using wool pad and heavy compound.
• Prior to the application of a SIO9 Ceramic layer it is crucial that the surface is in a new or like-new condition.
• We recommend to clean the surface prior to the application with our sterile cleaner
• Make sure to apply the topcoats REGL/WETL/DIAM not sooner then 2 hours after the application from SIO9.
How to use
Before you use the product please study carefully our written step by step working instruction and watch our application video https://youtu.be/EEPQY2aWJBA for the right application technique.
Storage and handling
Store in dark and dry conditions at room temperature.
Use gloves and mask.
Ask for our MSDS via 24h - Emergency Phone: +62 811 640 5000 (advisory service in German, English, or Bahasa language)
Content of packaging
• 20 pcs 50ml-1.7oz SIO9 Coating (Suitable for matte stone and tile)
• dripper plug
Packaging Information
Includes plastic sealed wrap
1 pcs Weight 120 gram/ 0.39lbs bottle size L3.6cm x W3.6cm x H11.2cm / L1.4inch x W1.4inch x H4.4inch 20 pcs in carton W18cm x H22cm x D12cm / W7inch x H8.6inch x D4.7inch   2.4kg 5.3lbs